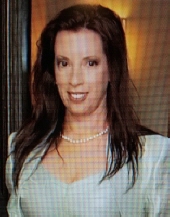 Obituary for Grace Marie Marco
Grace Marie Marco

MARCO, Grace Marie, 51, of Riverview, passed away on Thursday, July 6, 2017. A native of Newark, NJ, she had resided here since 1985. She was a Christian, a member of the Florida Assisted Living Association, Dementia Care Specialist and was a part-time Paleontologist. She is survived by her husband, Tony; step-son, Shane Marco; step-daughter, Kristen Calta; father, John Core; mother, Judy Vecchitto; brother, John Core, Jr.; sisters, Christine Picot and Nancy Core; nephews, Daniel and Dominic Joseph and Angelo Medina; nieces, Kylee Joseph and Novella Melvin and one grandson.

Funeral Information

Per her request, services will be private.