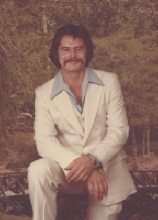 Obituary for Glen David "Buddy" Beasley
Glen David Beasley

BEASLEY, Glen David "Buddy", 63, of Seffner, FL, passed away on Tuesday, June 2, 2015. A native of Pensacola, FL, he had resided here most of his lifetime. He is survived by his wife, Jan; daughters, Tanya Schupp, Antoinette Bush and Danielle Chavers; brother, Bubba Beasley; sisters, Christine Beasley and Tricia Singletary and 9 grandchildren.

Funeral Information

Funeral services will be held 11:00 A.M. Tuesday, June 9, 2015, at Southern Funeral Care, 10510 Riverview Drive, Riverview. Interment will follow at Rose Hill Cemetery, Tampa. The family will receive friends Monday evening, June 8, 2015, from 6:00 until 8:00 P.M. at the funeral home.