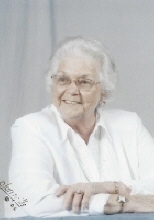 Obituary for Geraldine Ann Singletary
Geraldine Ann Singletary

SINGLETARY, Geraldine Ann, 82, of Seffner, passed away on Sunday, January 10, 2016. A native of New York City, she had resided here since 1976 coming from Hawaii. She was a member of Nativity Catholic Church, the Brandon Chamber of Commerce and was a US Air Force veteran. Preceded in death by her grandson, Michael Singletary, she is survived by her husband, Phillip; 4 sons, Phillip S. (Susan) Singletary, Phillip S. (Susan) Singletary, Jr., Brian K. (Patricia) Singletary and Guy "Tim" (Donna) Singletary; daughter, Carole (Joe) Raguckas; 3 sisters, Virginia Mills, Patricia Merrill and Rosemary Samus; 9 grandchildren and 6 great-grandchildren.

Funeral Information

Funeral services will be held 11:00 A.M. Friday, January 15, 2016, at Southern Funeral Care, 10510 Riverview Drive, Riverview, with the family receiving friends from 9:00 A.M. until service time. Interment will follow at Florida National Cemetery, Bushnell.