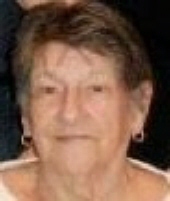 Obituary for Geraldine Aileen Jurgens
Geraldine A. Jurgens (Venarge)

Jurgens, (Venarge) Geraldine A. "Gerry", 82, of Riverview (born in Akron, OH) went to be with the Lord August 5, 2013. She was married to James E. for almost 41 years until his death in 1993. She is survived in death by one brother, David R. Venarge; her children Charles (Sadie), Patricia (Jim), John, Roxanne, Mary (Terrell), William, and Jane (Billy). She had 18 grandchildren and 3 great-grandchildren. Geraldine had a career as a Crime Lab Technician working for the Tampa Police Department for 19 years. She'll be truly missed by all her family and friends.

Funeral Information

A funeral service will be conducted 2 p.m. Thursday, August 8, 2013 at Southern Funeral Care with the family receiving friends one hour prior to the service.