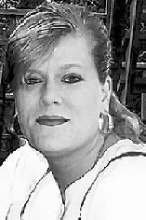 Obituary for Georgina Marie Leavy
Georgina Marie "Gina" Leavy

LEAVY, Georgina Marie "Gina," 37, of Tampa, died Friday, February 27, 2009. Born in Pittsfield, Ma., September 13, 1971, she attended Chamberlain High School and graduated from Manatee Adult in 2004. She was a 4.0 student and worked in the medical field at Everest University of Tampa. She was preceded in death by grand-parents, George Brewster, Andy Leavy and Judy Ellis. She leaves behind a son, Drew Feliciano (9); and life companion, Richard and his mother, Hilda; in-law, Raul Feliciano (Lisa); her mother, Donna and Mick "Pops" Ellis; father, Robert Leavy (Donna) and sister, Lindsey; sisters, Melissa Love (Randy), Venus Stone, Vickie Hagen and Ashley Ellis; grandmothers, Bertha Brewster and Madeline Corwell; aunts, Linda Sutton and Hobe Sound, and Pat Dufur (Carl); uncles, George Brewster (Pam) and Mike Leavy (Lisa); aunts, Sher Leavy and Diane Hardwick; nieces, Amanda and Tia Leavy, Cloe Stone, and Tanya and Clarissa Hagan; nephews, Cory and Cody Love, Cory Whittenborn, and Brian; and great-niece, Chloe Ewell; and niece, Teyla Dedic; and friends, Maureen, Tom and Jonathon. Her life "favs" were God and her love for her son and music. She was an inspiration to all the lives she touched. She will be dearly missed. "Sing with the angels, our princess."

Funeral Information

A memorial service will take place at 11 a.m. Tuesday, March 3, at Kings Avenue Baptist Church, Brandon.