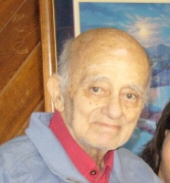 Obituary for George T. Simatos
George T. Simatos

SIMATOS, George T., 93, passed away on August 5, 2013. George was born on October 23, 1918 in New York City, New York. He was predeceased by his beloved wife, Ann, and granddaughter, Stacy. He is survived by his step-son, Bill (Tricia) and granddaughters, Michele (Ron), Karen and Jennifer (Nick) and 5 great-grandchildren. George served in the U.S. Army during WWII. He was a member of the Teamsters' Union, driving a moving truck in New York City for many years. After he retired at 70, he continued to keep fit by walking many miles every day. He loved to go to the shopping mall and meet friends for coffee, continuing to exercise by walking around the mall several times. George was a quiet guy, with a gentle personality and shy smile, but he loved to sing along to familiar songs. His last years were spent at the Emeritus at Northdale Assisted Living, where he had many friends and a wonderful caring staff.

Funeral Information

Services will be private.
Read More