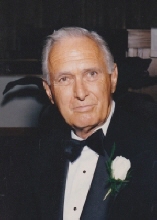 Obituary for George Henry Cary Jr.
George Henry Cary, Jr.

CARY, Jr., George Henry, 88, of Largo, FL departed this life Sunday, May 26, 2013, at Woodside Hospice, Pinellas Park, FL, following a short illness. Mr. Cary was surrounded by family at the time of his passing. Born December 24, 1924, in Ballast Point, FL, Mr. Cary was the son of the late George Cary and Marion Reed Cary and the grandson of the late Benjamin Marion Reed, founder of B. Marion Funeral Home, Tampa, FL. After graduating from Plant High School in 1942, Mr. Cary enlisted in the Army Air Corp. He advanced quickly through flight training and by the age of 19 was flying the renowned P-51 Mustang fighter in the Pacific theater. He would continue to fly combat missions over Japan until the end of the war. Following V - J Day, he was stationed briefly in Japan before returning home. Mr. Cary was a pioneering hot air balloonist, once competing in the National Hot Air Balloon Championships in Indianola Iowa. He remained active in aviation throughout his life and would often take his children to air shows, EAA fly-ins (many at Oshkosh), and the IA championships in Fond Du Lac, WI. He stayed connected to fellow pilots and aviation enthusiasts until his death. After returning home from the war, Mr. Cary attended the Florida College for Men in Gainesville before transferring to Florida State University in 1947. While at Florida State, he developed a passion for the theater. He was a charter member of the Kappa Alpha Fraternity. After earning a degree in speech pathology, he worked for the Florida Dept. of Education. While at FSU, he met Barbara Ann Edenfield whom he would go on to marry. The couple settled in Tampa, where they raised Reed, Marcia, and Greg. In 1956, Mr. Cary left teaching and was named president of B. Marion Reed Funeral Home. In the early 1960s, he successfully campaigned for a county-wide ambulance service staffed by trained medical technicians to serve Hillsborough County. After the concept was accepted, he was named president of the company, Ambulance, Incorporated, supplying the first privatized emergency ambulance service of its kind in the state. During the same period, he served as President of the National Hospital Welfare board. Mr. Cary was athletic and enjoyed participating in and watching sports. He played basketball, tennis, but his love was water sports, especially sailing. As a member of the Davis Island Yacht Club, he often sailed and raced in Tampa Bay. A favorite sail boat was the Windmill, a kit boat that was both fast and challenging to sail. He spent his summers with his family at his Indian Rocks Beach home, where he taught his children to sail, fish, boat and generally to enjoy and appreciate what the Gulf Coast had to offer. Of his many cultural interests, Mr. Cary loved jazz music, attending events throughout his life, as well as the theater which drew him into his involvement with the Blue Ridge Community Theater in GA. Mr. Cary will be remembered for his dedication to family, country, and community, his sense of humor, pursuit of knowledge, and passion for life which he passed on to his three children. He was a Mason, Shriner, and active in a number of other civic organizations. Mr. Cary was a member of St. Luke's Episcopal Church, Blue Ridge, Georgia. He was preceded in death by Barbara Zampini Cary and is survived by two sons, Reed Cole Cary, Esq. of Melbourne, FL; Greg Cary (wife, Carolyn Blank Cary) of Carrollton, Ga., and one daughter Marcia Cary Stewart (husband, Tom Stewart) of Largo, FL; grandchildren Whitney and Cole Cary, Tommy Stewart and wife Amanda. Cary Stewart Cannon and husband John Cannon. Emmery and Lillian Cary; great-grandchildren, Madison and Kellen Stewart. Taylor Cannon.

Funeral Information

Services will be held at a later date in Blue Ridge, GA.