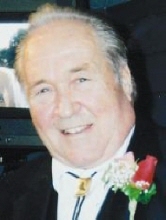 Obituary for George Frank Sulwer Jr.
George F. "Sonny" Sulwer, Jr.

SULWER, Jr., George F. "Sonny", 73, of Riverview, passed away on Tuesday, September 1, 2009. He is survived by his wife, Jessie; sons, Brad of Moweaqua, IL and Rick of Beecher City, IL; brothers, Mike of St. Louis, MO and Louis of Oakley, IL; sisters, Dottie Van Horn and Helen Sulwer, both of Cerrogordo, IL and Betty Conour and Mary Ann Lutes, both of Decatur, IL; 6 grandchildren and 6 great-grandchildren.

Funeral Information

Funeral services will be conducted 10:00 A.M. Saturday, September 5, 2009, at Southern Funeral Care, 10510 Riverview Drive, Riverview. The family will receive friends Friday evening from 6:00 until 8:00 P.M. at the funeral home.