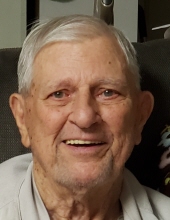 Obituary for George Earl Stuart
Stuart, George Earl, 85, of Brandon, passed away Sunday, November 17, 2019. He was born June 5, 1934 to the late Burkett and Thursa (Wooden) Stuart in Cleveland, TN. He had one late brother, Robert.
George was known to many as an artist, a sportsman, a military veteran and an armchair philosopher. George was a parachute rigger in the 101st Airborne Division of the Army who made over 40 jumps, a college graduate who was nominated for the Woodrow Wilson Fellowship while earning his Bachelor of Fine Arts degree at Georgia State University, and a fisherman who loved to go out on his boat where he may or may not have ever cast a line. He also loved bowling, coaching his kids' little league football teams, and later became an avid golfer. After his time in the military he worked for over 40 years in the airline industry. His career took him from Maryville, TN to Minnesota and Chicago, down to Atlanta and finally to Tampa, FL. George came from very humble beginnings in eastern Tennessee, but lived a full and memorable life nonetheless. He was a Golden Gloves boxing champion as a teenager, he spent time in Germany with the Army, was a published cartoonist, and he was an avid collector of fine personal accoutrements. George married Lynda Morris on April 23, 1966. She loved and endured him for over 52 years. He and Lynda raised five children, Karen, Shari, Jon (Gail), Bradd and Grant (Denise) and had six grandchildren, Elizabeth, Teddy, Jessie Pearl, Jake, Walter and Scot. George and Lynda managed to house, clothe, feed, and educate each of their children, even well past the commencement of adulthood. He was a good Daddy.
George will be interred in the Florida National Cemetery in Bushnell. A memorial service is planned for Monday, November 25, 2019 at 2pm in the chapel at First Baptist Church of Brandon, with a reception to follow. In lieu of flowers, the family requests that memorial contributions be sent to First Baptist Church of Brandon, Paralyzed Veterans of America or a charity of your choice.
Read More
Previous Events
Memorial Service
First Baptist Church of Brandon
216 North Parsons Avenue
Brandon, FL 33510
A reception to follow at the church.
Memorial Contribution