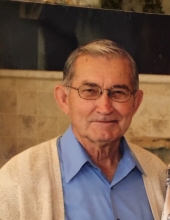 Obituary for Fredrick Ashton Mixon
Frederick Ashton Mixon, a/k/a Fred, 82, of Tampa, passed away on Monday, January 14, 2019 in Lutz. A Celebration of Life will be held at 11:00 am Saturday, January 19, 2019 at Idlewild Baptist Church in Lutz, FL. The family will have visitation beginning at 10:00 am and immediately following the celebration. Celebration of Life will be officiated by Rev. Bob E. Lyons long time Pastor and friend of Fred and his family. Fred was born in Tampa on September 17, 1936 to his parents Louis Whitten Mixon, Sr. and Nora Mixon. He was raised in south Tampa just off Bayshore and graduated from Plant High School in 1955. After graduation, Fred served in the United States Air Force for 4 years. While stationed at Barksdale Air Force Base in Shreveport, LA he met Linda Yvonne Allen and they were married on January 16,1962. Fred and Linda settled down in Tampa, Fl and started a family. Fred worked in the Family Well Drilling Company for over 30 years, Mixon Foundation and Drilling Inc. He worked for 13 years at Moretrench Environmental Services and ended his career as a self-employed contractor doing business as The Mixon Group Inc. He held a Florida Water Well License #2250, through South West Florida Water Management District. He was certified by The National Ground Water Association for well construction. In May of 2017, The Florida Groundwater Association recognized Fred for his years of service to the industry and presenting him with the Lifetime Membership Award. Fred loved to serve others. He was well known in the water well industry for protecting our most precious resource, ground water. He served on many local committees through the West Coast Chapter of the Florida Groundwater Association. He served at the state level as the President of the Florida Ground Water Association. Fred served a few years at the National Level through The National Ground Water Association. Fred was always willing to give of his time and talents to educate those who would listen about proper well construction methods that would protect our water supply for years to come. Beyond his professional career, Fred served his home church (University Church of God) as a deacon, a mentor, taught Sunday school, and could almost always be found most weekends helping someone in need. Fred is preceded in death by Louis Whitten Mixon, Sr. and Nora Mixon, Linda Mixon, Dorothy Roberts, Louis Whitten Mixon, Jr. He is survived by his daughter Tammany McDaniel and son-in-law Chris McDaniel, his son Todd Mixon and daughter-in-law Anna Mixon, his daughter Tonya Dalfino and son-in-law Dan Dalfino, his son Liam Mixon, his brother William D. Mixon, his granddaughter Ashley Thompson, his grandson Ashton Dalfino, his grandson Bradley Mixon, his granddaughter Courtney Boggs, his granddaughter Noelia Mixon, great-grandchildren Paisley Mixon, Parker Mixon and Reese Thompson as well as many nieces and nephews. Donation can be made in honor of Frederick A. Mixon to The Florida Ground Water Association Scholarship Program in lieu of flowers. Donations can be sent directly to:
FGWA, 325 John Knox Road, Suite L103, Tallahassee, FL 32303, Memo – scholarship fund.
Read More
Previous Events
Visitation
Idlewild Baptist Church
18333 Exciting Idlewild Blvd.
Lutz, FL 33548
Celebration of Life Service
Idlewild Baptist Church
18333 Exciting Idlewild Blvd.
Lutz, FL 33548
Memorial Contribution
Florida Ground Water Association
325 John Knox Road
Ste. L103
Tallahassee, FL 32303
Attention: Scholarship Fund