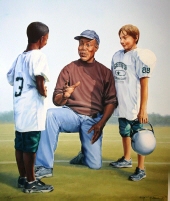 Obituary for Freddie Solomon Jr.
Freddie Solomon, Jr.

SOLOMON, Jr., Freddie, 59, of Tampa, lost a valiant fight with colon cancer on Monday, February 13, 2012. A native of Sumter, SC, Freddie attended Lincoln and Sumter High Schools where he graduated in 1971 and then attended and graduated from the University of Tampa in 1975. He was a member of the NFL for 11 seasons (Miami Dolphins 1975-77 and the San Francisco 49ers 1978-85). Upon his retirement from the NFL, Freddie served the community for over 20 years as a key member of the Hillsborough County Sheriff's Office. Preceded in death is his grandmother, Zinker Jones, his sister, Shirley Pugh and his father, Freddie Solomon Sr. and is survived by his wife, of 33 years, Delilah; his mother, Bessie Solomon; brothers, Richard Solomon, Oneal (Dorothy) Solomon, Roger (Jean) Solomon; mother-in-law, Mae "Sugar" Jeffers; brothers-in-law, Lanness (Patricia) Robinson and William Jeffers, special sister, Ida Burns and a host of nieces, nephews, other special relatives and many friends. Freddie's community involvement was immense, and included providing for children, including Back to School events, Christmas programs, Family Fun Days, and Football Camps/Clinics.

Funeral Information

A memorial service will be held 11:00 A.M. Monday, February 20, 2012, at St. Lawrence Catholic Church, 5225 N. Himes Avenue, Tampa.