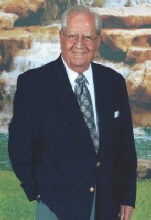 Obituary for Frank Rambo Pearson
Frank Rambo Pearson

PEARSON, Frank Rambo, 85, on Monday, June 10, 2013, our beloved Rambo passed from this life to be with the Lord. He was born in Sarasota and is predeceased by his parents, Clem and Willie Etta Pearson; his brother-in-law, James Boggs and his wife of 51 years, Marian Boggs Pearson. He is survived by his loving wife, Sonya; sons, James, Jeffery (Peggy) and Matt Pearson and Chris (Michelle) Garren; daughter, Laura Garren; sister-in-law, Marlene Boggs; four grandchildren, Mindy and Justin Pearson and Sean and McKenna Garren and many nieces and nephews. Rambo came from a family that believed in service to country and community. His father, Clem, was Sheriff of Sarasota County from 1933 to 1939. His brother, Doug, the "rock" of the Pearson family, was Sheriff from 1939 to 1953. His beloved brother, Jeff, a B-26 bomber pilot, was killed on his 22nd mission in WW II combat. So following that tradition, Rambo enlisted in the US Navy after graduating from Sarasota High School. After his service to his country, Rambo attended Florida State University where he was a member of the track team. It is there that he met his wife, Marian. A resident of Brandon for 53 years, Rambo had a multitude of family and friends who loved him for his kind, loving nature. Rambo adored his family and always put their needs above his own. He was the youngest of eight children and always looked forward to family reunions to share stories and reminisce as they shared his meticulously researched and preserved family albums. Rambo was an avid fisherman and excellent boat captain who loved taking family and friends on his many fishing expeditions. After his retirement from Sears, he also enjoyed playing golf. Rambo was a blessing in our lives, truly loved by everyone who knew him. We will miss you deeply, Rambo.

Funeral Information

Friends and family are invited to attend a Celebration of Life service on Sunday, June 30, 2013, at 2:00 P.M. at the Brandon Elks Lodge, 800 Centennial Lodge Drive, Brandon.