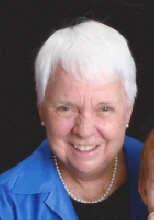 Obituary for Frances Lumsden Gunn
Frances Lumsden Gunn

GUNN, Frances Lumsden, 83, of Brandon, passed away on Saturday, December 31, 2016. A native and life-long resident of the area, she was a charter member of Bell Shoals Baptist Church and active in the Choir and Children's Ministry. She is survived by her husband, Donald; son, Donald H. Gunn, Jr.,; daughter, Brenda Heisler; sister, Evelyn Clites; 4 grandchildren and 2 great-grandchildren.

Funeral Information

The family will receive friends 6:00 until 8:00 P.M. Wednesday, January 4, 2017, in the main sanctuary narthex of Bell Shoals Baptist Church. Funeral services will be held 10:00 A.M. Thursday, January 5, 2017, in the chapel at Bell Shoals Baptist Church, 2102 Bell Shoals Rd., Brandon. Interment will follow at Hillsboro Memorial Gardens.