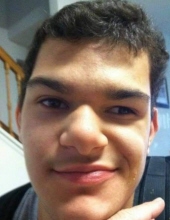 Obituary for Evan C. Groome
It is with heavy hearts and great sadness that we announce the passing of our beloved son, Evan
Groome, age 22. Evan is preceded in death by his maternal and paternal grandmothers and is survived
by his loving parents, Denisse and John; older brother, Brandon; and younger sister, Sofia.
Evan was known for his infectious smile, joyous laughter, his courage, and resolve.
Despite many health challenges throughout his life, Evan lived a life of purpose. Evan was a vessel that
inspired others to be kind, empathetic, more understanding, compassionate towards others, and to
look beyond themselves. His unwavering spirit was a shining light in our lives and left an indelible
impression to those that knew him.
It was a great blessing to have Evan in our lives for 22 years. It brings us solace to know that Evan is now
free from physical limitations and that, as a seed planted on earth, he will bloom and flourish in heaven.
The family would like to extend their heartfelt gratitude and appreciation to all who provided care and
support for Evan during his life. We are deeply grateful for nurses, Ms. Cathy, Ms. Dia, and Ms. Nadine for
their kindness, compassion, dedication, and love.
A Celebration of Life will be held in honor of Evan, the time and location will be announced at a later
date.
In lieu of flowers, please consider donating in Evan's memory to Shriners Children's Hospital at:
https://lovetotherescue.org/
Read More