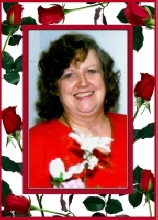 Obituary for Ethel M. Borders
Ethel M. Borders

BORDERS, Ethel M., 75, of Riverview, FL passed away on Thursday, October 27, 2011. A native of Lawrence County, KY, she had resided here for 8 years coming from Lowmansville, KY. She was a member of West Riverview Congregation of Jehovah Witness. She is survived by her husband, Melvin; 5 sons, Stephen, Kenneth, James, Dwayne and Brian Borders; 2 daughters, Cheryl and Susan Borders; 3 sisters, Gladys McDaniel, Joanne Vanhoose and Frances Athington; 14 grandchildren and 12 great-grandchildren.

Funeral Information

Memorial services will be held Saturday, November 5, 2011, at 5:00 P.M. at Kingdom Hall Of Jehovah's Witnesses, 14608 US Highway 301 S., Wimauma, FL 33598.