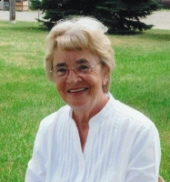 Obituary for Elizabeth Delores Markel
Elizabeth Delores Markel

MARKEL, Elizabeth Delores, 74, of Dover, FL, passed away on Tuesday, November 10, 2009 in Brandon, FL. A native of Kenmare, ND, she had resided here since 1991. She was a member of St. James Catholic Church, Sherwood, ND; Loyal Order of Moose Auxillary, Brandon, FL; Fraternal Order of Eagles Auxillary, Brandon, FL and V.F.W. Auxillary, Minot, ND. She is survived by her husband, Ray; 5 sons, Kent Knutson, Littleton, CO, Dwight and Brian Knutson, both of Sherwood, ND, Gilmore Knutson, Westhope, ND and Jayme Knutson, Palmer Lake, CO; 3 daughters, Renee Scott, Dover, FL, Yvonne Knutson, Cor d Alene, ID and Susan Zamora, Colorado Springs, CO; 17 grandchildren and 7 great-grandchildren.

Funeral Information

A Funeral Mass will be celebrated 11:00 A.M. Monday, November 16, 2009, at St. James Catholic Church, Sherwood, ND. A visitation and Rosary service will be at Brose Funeral Home, 209 - 2nd Street, NE, Mohall, ND 58761 (701) 756-6380.