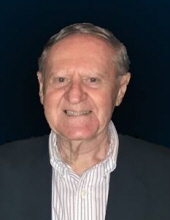 Obituary for Edward F. Serra
Ed was born Eduardo Francisco Serra in Buenos Aires, Argentina on March 3, 1929. He had one sister and lived a happy childhood in Argentina. He was the only son to parents Francisco Serra and Ernestina Ricci and younger brother to sister Norma. He was greatly influenced by his five years in the military school. He learned discipline and integrity, and became a high achiever. He came to the U.S. in 1947 to attend New York University and study Mechanical Engineering. He was a member of the Delta Phi fraternity. He met a cute brunette named Dotty and, after graduating, he married Dotty on August 23, 1952. He worked mostly in the Pharmaceutical Industry living in New Jersey, Mexico and finally Puerto Rico, where he spent 25 years before retirement. Ed and Dotty finally settled in Lithia, Florida, where they have lived for 22 years in a welcoming and close-knit neighborhood.
During their 67 years of marriage, Ed and Dotty traveled the world together, visiting 70 countries spanning six continents. Ed filled his free time with rounds of chess, coin and stamp collecting, and photo album masterpieces. His passion and diligence in making his family albums is testimony that Ed's most cherished achievement in life has been the happy and healthy family he and Dotty raised. Ed was always a family man and loved watching his children grow and begin families of their own.
Ed passed away on May 28, 2020 from complications related to Covid-19. He passed quietly at home, surrounded by his family. Ed is survived by his wife, Dotty, his five children Rick, Ken, Sue, Scott and Annette, their spouses, and his fifteen grandchildren. Ed touched many lives during his 91+ years. He will be remembered as an intelligent, loving, and vibrant man who put his family first. He was known for his sense of humor and storytelling abilities. He was a loving husband, father, grandfather, neighbor, and friend. Ed will be deeply missed by all those whose lives he touched.
Read More
Previous Events
Funeral Mass
St. Stephen Catholic Church
10118 ST Stephen Circle
Riverview, Fl 33569
Mass will be celebrated in the main sanctuary. The family requests that in lieu of flowers, donations be made to the charity of your choice in his memory.