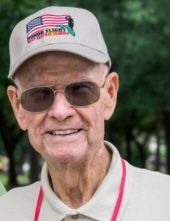 Obituary for Edward Burnsed
Born in 1923, Ed Burnsed was the oldest son in a family of six children. His father, Hardy Burnsed, came from a long line of hard-working farmers. Magdaline Rhoden Burnsed, his mother, also knew farming as a way of life. Along with his older sister, Retha, Ed became the big brother to Ruby, Henry, Nelson and Millage. Their home, which still stands, was small but all that was needed, as most of their time was spent in the outdoors. Life on the Burnsed farm was not always easy, but it was always full of love.

Growing up during the Great Depression, even the basic needs were hard to come by. Ed often shared with his children and friends that he was 11 years old before he owned his first pair of shoes. He walked the swamps of Okefenokee barefoot to school and anywhere else he needed to go. An intimidating land, Okefenokee Swamp is the largest blackwater swamp in the US and considered one of the 7 Natural Wonders of Georgia. He and his dad often went alligator hunting for food. Ed would wade into the water and grab the gator by the neck. While he held it in the air, his dad would shoot it. Not many are that brave!

With the US officially involved in World War II in 1942 and Hitler gaining dominance in Germany, Ed joined the many young patriotic men who enlisted in the military. On January 4, 1943, he became a foot soldier in the US Army. Serving in the 206 Anti-Aircraft division, he was stationed in Hawaii. His most difficult time was spent in the Battle of Iwo Jima. Following the Marines after the initial invasion, Sergeant Burnsed commanded an anti-aircraft battery protecting the newly liberated airfield on Iwo Jima. He said one Japanese plane landed on the airstrip, but his troops made sure it never left. When someone would ask him if he was scared while he was in Iwo Jima, he would reply that when they first started shooting at him, he ran halfway back across the ocean before it even got knee deep. As the Allied Forces declared a victory, Ed was honorably discharged December 31, 1945. Ed returned to American soil and walked and hitchhiked from New Jersey to his home on the Georgia/Florida line.

Marrying the love of his life, Sally Kabrich, in 1948, he became a dad in 1949. Kenney was followed by their first daughter, Carolyn, then Paulette, then Charles, then Karen and, in 1963, Kevin completed the family of eight. And what a wonderful family it is. The love instilled in their children is still shared by the siblings today. Over the years, their family would grow to include eleven grandchildren and numerous great-grandchildren.

With a strong work ethic, Ed climbed the corporate ladder quickly. His management skills took the family from Jacksonville to Orlando, Miami, back to Orlando and in 1959, to Brandon. Establishing a home on Bloomingdale Ave, the Burnsed family thrived. Ed worked for several companies and traveled quite a bit. Even with his heavy workload, he found time to hunt and fish with his boys at their favorite spot, Tiger Lake. Another favorite treat was Sunday nights, when he brought home hot Krispy Kreme donuts for the family's Sunday evening meal.

After becoming a Mason in 1988, Ed would go on to continue his masonic journey, eventually joining the ranks of the Scottish Rite. In recent years, he was the recipient of multiple honors for his military service and his civic-mindedness.
Law enforcement was of particular importance to Ed and in 2019 he received a 45-year recognition for his unwavering support and continued donations. In September of 2018, Ed, accompanied by son Charlie, joined other war veterans on an Honor Flight to Washington D.C. A day packed with tours and recognition by dignitaries ended with an airport full of grateful Americans, honoring Ed and his fellow veterans for their service to our country. Ed proudly wore his WWII Veteran's cap everywhere he went in his later life. Also in 2018, The Rough Riders of Tampa Bay honored him with a golf tournament, where he was recognized as a World War II veteran and survivor of Iwo Jima. This honor was quite fitting, as golf was his favorite pastime. He played any course he could and was extremely good at it. Sharing this hobby with his sons, they played their last foursome when Ed was 95.

A man of perfect posture and quiet strength, Ed will be remembered as a man who stood tall. He was always ready to offer his unwavering love and support to his family. His children will quickly tell you he was always there for them, guiding by example and kind words. And while Ed never wanted to be in the limelight, he was always there behind the scenes, ready to help when needed, and to offer his congratulations for the accomplishments of others. Ever the perfect gentleman, Ed thanked everyone for the smallest of kindnesses, with a ma'am or sir for all. As the saying goes, they truly don't make men like Ed Burnsed anymore.

July 24, 2021, Ed left his faithful Earthly body and was reunited with Sally in Heaven.

Funeral services will be held 12:00 P.M. Wednesday, July 28, 2021, at Southern Funeral Care, Riverview. Interment will follow at Hillsboro Memorial Gardens with Military Honors.In lieu of flowers, please make donations to Viste.org.
Read More
Previous Events
Celebration of Life Service
Southern Funeral Care and Cremation Services, Inc.
10510 Riverview Drive
Riverview, FL 33578
Cemetery Details
Location
Hillsboro Memorial Gardens
2323 West Brandon Blvd.
Brandon, FL 33511
Memorial Contribution
VISTE - Volunteers in Service to the Elderly
1232 E Magnolia Street
Lakeland, FL 33801