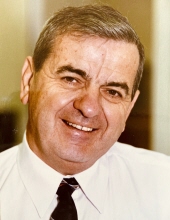 Obituary for Earl John Emmons
EMMONS, Earl J., 85, of Valrico, FL, dear father and friend, passed on Saturday, March 21, 2020.

Earl was born in Hartford, Connecticut to Walter and Hazel Emmons. As young man, he was active in athletics and community service, two passions that would remain with him for the rest of his life. In 1956, he joined the Windsor police force before moving on the next year to serve his country in the US Army, and later as an officer in the Central Intelligence Agency. Upon returning to Connecticut he resumed his duties as a police officer, before moving to Florida in 1960.

His move to Florida marked a new beginning in what would become a long and storied career. First serving as a reporter for the St. Petersburg Independent covering the police beat, Earl eventually moved to the Tampa Tribune where he worked his way up to Business Editor. Later, he served as Vice President of Marketing for Freedom Bank and came to serve the same role at Sun Bank. Eventually, he accepted an offer he couldn't refuse and returned to The Tampa Tribune, where he served as Regional General Manager and later as Executive Director of Tampa Tribune Productions, where he organised and promoted the popular annual "Taste of Tampa" event.

His community involvement included serving as both Chairman and President of the Greater Brandon Chamber of Commerce, General Manager of the Tampa Chamber of Commerce, Executive Director of the Tampa Chamber's "Committe of 100", Chairman of the Tampa Sports Authority, Vice Chairman of the Board of Trustees for Hillsborough Community College, and Chairman of the Brandon Balloon Festival. He was also an active member of the Brandon Rotary Club, Hall of Fame Board of Directors and recipient of The Tampa Sports Club's annual "Sportsman of the Year" Award.

Notably, Earl's life long love of sports and civic engagement were brought together when he was one of seven members of the NFL task force charged with bringing professional football to Tampa, which successfully resulted in the city being awarded the Buccaneers franchise. He later founded the Bucs Booster Club, and was instrumental in serving on the Task Forces that brought Super Bowl XVIII and XXV to Tampa.

Earl was also extremely active for many years with his local parish, Nativity Catholic Church and School of Brandon, where he served as President of the School Board, Parish Council, and Home and School Association. He also served as Chairman of the Diocese of St. Petersburg School Board.

In 1998 at a High School reunion, he reconnected with a friend, Nancy Estep. The two were married a short time later and Nancy remained the love of Earl's life and constant companion in their many travels…including frequent trips to their beloved North Carolina cabin…until her death in 2013.

Throughout his life, Earl remained a well known and popular fixture in the Tampa Bay community. He impacted many lives, and is remembered (often smoking his trademark pipe) with fondness by those who knew him.

In addition to his cherished wife Nancy, he was preceded in death by brothers, Walter, Bill and Eddie and sisters, Hazel Jacobsen and Patricia Porteus. He is is survived by his children, Jodi, Michael, Richard and Tammy, many loving grandchildren, nieces and nephews, and lifelong friend Harry. Services are private.


Events