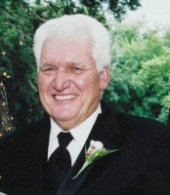 Obituary for Douglas Lavelle Hicks
Douglas L. Hicks

HICKS, Douglas L., 74, of Brandon, passed away on Saturday, October 27, 2012. A native of Laurel Mississippi, he had resided here for two weeks coming from Stuart, FL for the past 11 years. He was a member of the Masonic Lodge, West Palm Beach and the Scottish Rite, Valley of Lake Worth. He is survived by his wife, Mary "Lou"; 2 sons, Doug Hicks, San Antonio, TX and Frank Dantoni, Jackson, MS; 4 daughters, Deborah Romero, Brandon, FL, Pamela Herring, Brandon, MS, Deanna Belding, Omaha, NE and Michelle Haynes, Valrico, FL; 3 brothers, Winfred of Natches, MS, Thomas of Beaverton, OR and Roy Hicks of Laurel, MS; 14 grandchildren and 5 great-grandchildren.

Funeral Information

Funeral services will be held 11:00 A.M. Friday, November 2, 2012, at Southern Funeral Care, 10510 Riverview Drive, Riverview, with the family receiving friends one hour prior to services.