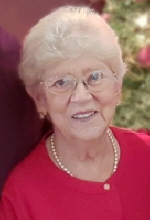 Obituary for Dorothy Ruth (Seaton) Collins
Dorothy Ruth (Seaton) Collins

COLLINS, Dorothy Ruth (Seaton), 83, of Tampa, entered eternity peacefully at Florida Hospital after a brief battle with cancer on May 1, 2016. She was born to the late Frank Howard Seaton and Mary Jane Raymond Seaton on March 20, 1933, in Silver Lake, NY. She grew up in Tampa and graduated from Plant High School. In 1956, she began her storybook romance when she married the love of her life, Loren J. Collins. They soon began a family and after years of working in the banking industry, she retired to raise her three children while her husband was stationed in Vietnam. She was a model Air Force wife. An 80-year Tampa resident, Dottie loved gardening in the Florida sun. She also loved serving in the churches she attended, including teaching a Sunday School class for 4 year olds for 15 years at the First Baptist Church of Riverview. She was loved by all who knew her. After God, there was nothing more important to her than her beloved family. She is survived by her husband and three children, Lori Collins Boatright, Valrico, FL, James H. Collins, Merrimack, NH and John S. Collins, Tampa, FL. Her six grandchildren, Amy Boatright, Amanda Boatright, Mary Katherine Collins, Samuel Collins, Nicole Collins, and Lauren Collins. She had one great-granddaughter Taylor DeMay. She leaves behind numerous loving relatives and friends. She was predeceased by all of her siblings, Elmer, Robert, John Francis, June, and Arthur Seaton. "Turn backward, turn backward, Oh time in your flight. And make me a child again, Just for tonight."

Funeral Information

Funeral services will be held 11:00 A.M. Wednesday, May 4, 2016, at Southern Funeral Care, 10510 Riverview Dr., Riverview, with Dr. Thomas Green officiating. The family will receive friends one hour prior to services. Interment will follow at Florida National Cemetery, Bushnell, FL.