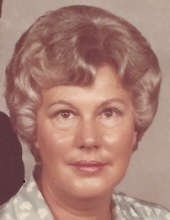 Obituary for Doris Marie Skelton
Doris Marie Schwindt Skelton of Brandon, Fl passed into the arms of our Father in Heaven on the January 12th 2022, after a long battle with Alzheimer's.
She was born on August 15, 1929 and grew up in Hanover, Canada. She went on to receive her RN degree from Victoria Hospital in London, Ontario in 1952. In 1953 she met the love of her life Sam, while caring for him as a patient. On their 5th date they said "I DO" and they remained forever in love and best friends for over 62 beautiful years together.
Sam brought Doris to the states where they resided in Sanford, Fl and had two beautiful sons Mark and Chris. They moved to Brandon, Fl in 1962 where they built their forever home, she continued her work as a Registered Nurse and raised their boys. Doris was an active member of New Hope United Methodist Church, Brandon, Fl. Serving with the organization Meals on Wheels for many years. After retirement Doris and Sam traveled throughout the United States and many different countries. Doris enjoyed playing in her Bridge clubs, fishing, and boating and spending time with her family and friends. Doris's beautiful soul has now joined her husband Sam and their son Christopher Skelton.
Doris is survived by her son, Samuel Mark Skelton; daughter-in-law, Belinda Skelton; her grandchildren, Jaclyn Caruthers, Samuel Mark Skelton, Jr.; their spouses, Charles Henry Caruthers, and Christina Skelton; along with 8 great-grandchildren, Ashlei, Tyler, Travis, Lucas and Adrianna Skelton; Madelyn; Paityn and Jaxon Caruthers.
Services will be private. In lieu of flowers, please make donations to the New Hope United Methodist Church Meals on Wheels program.
Read More
Events
Memorial Contribution
New Hope United Methodist Church of Brandon
213 North Knights Avenue
Brandon, FL 33510