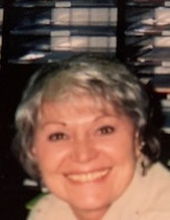 Obituary for Donna Jean Badgero
Donna Jean Badgero died January 13th, 2022 at her home in Ruskin, Florida at the age of 73. She was a native of Indiana and moved to Florida in 2004. She was born January 2nd, 1949 to Roy Collins and Norma Collins (Mills) who both preceded her in death. Donna is survived by her brother Brian Collins (Karen) of Indianapolis, Indiana. Donna was married to her husband, Kirk Badgero of Ruskin Florida for over 33 years. Donna had two sons from previous marriage, Bryan Wolf (Ruth) and Dustin Wolf (Tracy) both of Kokomo, Indiana. Donna had eight grandchildren and three great grandchildren, along with nieces, nephews, several very close cousins, and a few very dear friends. Donna worked several jobs in her younger years from manufacturing and distribution to hair stylist. However, in her early 30's she decided to follow her passion for nursing. She worked in several nursing disciplines psychiatric, oncology, hospice…. but her longest (and most favorite) tenure was working at Riley Children's Hospital in Indianapolis. She enjoyed this job the most and worked in pediatric ICU, newborn ICU and child burn unit. Donna loved being outdoors in her younger years, particularly National Parks, camping throughout the Rocky Mountains and walking the Florida beaches. Chronic severe back pain caused her to end her nursing career early and to refocus her interests to less strenuous activities. One of Donna's favorite pastimes was listening to music. Her collection of vinyl (she was old school) was an audiophile's dream. She also jumped at any chance to go to concerts to listen to live shows.
She was a lover of animals of all kinds and had several pets…. dogs, cats (even, briefly fostered a racoon) throughout her life.
She was one of the most kind and generous people many of us will ever come across. Family and friends will be notified in the near future as to any "Celebration of Life" arrangements. It was Donna's wish to be cremated with no formal services. She will be greatly missed by all who were fortunate to know her.
Read More