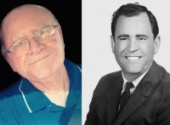 Obituary for Donald William Mullins Sr.
Donald William Mullins

MULLINS, Sr., Donald William, 77, passed peacefully on Tuesday, October 20, 2015. A native of Logan, W.V., Don resided in Tampa, Florida for over 20 years and enjoyed his community of Strawberry Ridge in Valrico for 10 years. An alumnus of Marshall University in Huntington W.V., with a Master's Degree in Business, he became a top sales associate at Lederle Laboratories, eventually building a highly successful executive sales career with Magnavox. In addition, he was proud to have served his country as a Captain in the US Army. Don's great passion in life was entertaining, and was an acclaimed singer and dancer. He also loved sports, movies, a good spy thriller, and especially his family. He is survived by his children, Kelly, Don Jr., and GiGi; his grandchildren, Alexaundra and Sean and his great-grandchildren, Sean (Shane) and Dominick. He was beloved by his family, well-respected by his colleagues, and will be greatly missed by so many friends all over the country.