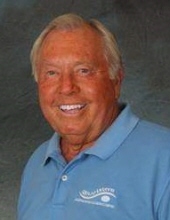 Obituary for Donald George LaMont
LaMONT, Donald George, 82, of Valrico, passed away on Wednesday, December 5, 2018, after a 7 month long battle to regain his mobility and sight, after suffering a massive stroke in May 2018. Born in San Diego, CA, a son of Winifred Stevens and Daniel LaMont, on May 13, 1936. He is survived by his wife, Caroline LaMont; 3 sons, Perry LaMont, Kevin LaMont and Ken LaMont; daughter, Kelly Boyd-Rivera and 3 grandchildren, Jonathan Boyd-Rivera, Mia Rivera and Alexa Rivera. He will also be sadly missed by his family and the entire swim community around the world. LaMont, also known as Coach Don, is renowned in the swim field. His resume reads like an epic novel, spanning more than 50 years of involvement in the sport, from coaching at the University of Southern California to serving as head coach for the Desert Storm Swim Club in Las Vegas, to his recent of coaching at Velocity Swim and Brandon Sports and Aquatic Center. LaMont was inducted into the Los Angeles County Hall of Fame, served as USA Team Coach in New Zealand, Italy, France, Russia, West Germany and Japan. He has coached seven Olympians to gold and silver medals, 25 years of coaching the USC women's swim team and 17 All Americans and 13 Olympians. As much as LaMont admitted to having a pure love for swimming, his love for the kids that he coached for over 50 years was insurmountable.
Read More
Previous Events
Celebration of Life Service
Brandon Sports and Aquatics Center
405 Beverly Blvd.
Brandon, FL 33511
In Lieu of Flowers, please make donations to the Brandon Sports and Aquatic Center for the Swim Team.
Memorial Contribution
Brandon Sports and Aquatic Center, Inc.
405 Beverly Blvd.
Brandon, FL 33511