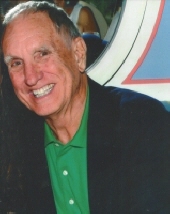 Obituary for Donald Edward "Don" Paul
Donald Edward Paul

PAUL, Donald Edward, passed away on Monday, August 8th, 2016. Born April 20, 1940, he is survived by his loving wife, Peggy, (they celebrated their 49th Anniversary on August 6, 2016); three children, Jennifer Paul, Todd Paul, Jodie Howard (Reginald) and is blessed with six grandchildren, Olivia Howard, Grant Howard, India Rose (Rosie) Howard, Joely Paul, Tori Paul and Lily Howard, who all helped keep his youthful spirit alive and well, regardless of his age. Also survived by his brothers, Dennis(Nancy), David (Rita) and Daniel and his sister, Margie Rose-Langes (Fred). His time as a Florida Gator (class of 1962), his successful career in retail and development management (including his time at the St. Petersburg Pier) brought him pride and joy. He enjoyed the many years consulting with the Plaza Las Americas family in San Juan, Puerto Rico. It was his family that always had him booming with laughter and love. His Catholic faith grounded and freed him, his friends comforted and cared for him, and his family kept him young--or rather, he kept them young. Don lives on through the unconditional love of his family and we feel him with us every day. We take comfort in knowing he spent his days doing exactly what he loved--being with family at the ocean. We know he is bouncing with joy in heaven, eating all the lemon pound cake and salmon he can get his hands on, patiently waiting for us all to come home. "If you knew how much I loved you, you'd cry with joy"-Medugorje".

Funeral Information

A Funeral Mass will be celebrated 11:00 A.M. Friday, August 12, 2016, at Nativity Catholic Church, Brandon, with a reception to follow.