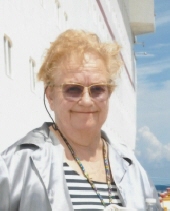 Obituary for Dolores Smith
Dolores Smith

SMITH, Dolores, 75, of Gibsonton, passed away on Sunday, October 26, 2014. A native of Michigan, she had resided here since 1979. She was a member of the International Independent Showmen's Association, the Greater Tampa Showmen's Association; American Legion Auxiliary; V.F.W. Auxiliary and was Catholic. She is survived by her husband, Lanny; son, Thomas Kula and granddaughter, Jaclyn (Ari) Smith.

Funeral Information

Funeral services will be held 2:00 P.M. Friday, October 31, 2014, at Southern Funeral Care, 10510 Riverview Drive, Riverview, with the family receiving friends one hour prior to services.