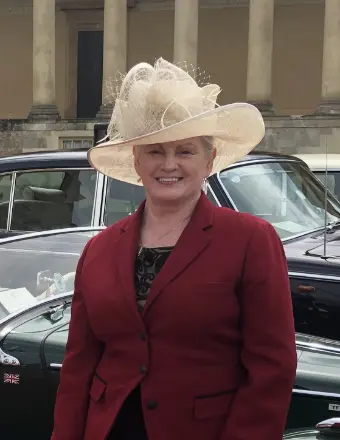 Obituary for Delores Noella Morrill
MORRILL, Delores Noella, 70, a lifetime resident of Valrico, went to be with our Lord on Thursday, October 26, 2023. Her parents Clinton Edward and Myrtis Sarah Pierce Morrill were blessed with Delores on Christmas Day, December 25, 1952. She grew up in New Hope United Methodist Church (previously the First United Methodist Church of Brandon).
She graduated from Brandon High School in 1970 where she was a Majorette and in various service clubs. Delores graduated from the University of Tampa in 1974 with a Bachelor of Science degree in Criminology and Sociology. While attending college, she was a Majorette for the University of Tampa Spartan Band, the last years of the Spartan football team. She was a founding member and served as Treasurer and President of Tau Beta Sigma sorority along with other service clubs while attending college and working part-time at Maas Brothers on Westshore Blvd.
When the Tampa Police Department began hiring women as police officers, Delores was the third woman cadet hired, but the first woman to attend the police academy. This was not the path her family expected for the recent University of Tampa graduate, but Delores was determined to make a positive difference. She had several assignments as an officer and then got promoted to Detective. She worked in Child Abuse and then in Narcotics/Vice. She went back to patrol as a Sergeant in District One. She was promoted to Lieutenant in 1991 and held that position In Vice, District One and District Two. In 1994 she was promoted to Captain where she worked in Selective Enforcement Bureau, Community Affairs and in all three districts.

Delores was most known for her calm, her kindness and her compassion. She mentored many Officers. She always stressed the importance of balance and family. She loved her family and made sure they came first. She was always recognized as a classy lady. A young female working for her recalls clearly when Delores informed her early on that it was important to remain a lady while working in a man's world. She said you don't have to swear and act foolish to fit in, it's far more important to be the best Cop you can and you can be the best and remain a lady. She accomplished that in every assignment. She could however be very firm and dress down the toughest of the tough without raising her voice or resorting to profanity. She would tell you what you did that was not acceptable, inform you of how you were going to not let it happen again and then give you that concluding, very special "We are done here" smile. You knew at that moment there was no point in saying anything else. The conversation was over.
Fellow supervisor recounted her guidance to him that one of the keys to supervision is that you handled it and it was done. You didn't hold grudges, animosity or vengeance. When it was handled-it was done. She did this very well in both her personal life and in her professional assignments. Most everyone that worked for her did their best not because they feared her, but because they did not want to disappoint her.
Delores was recognized by her peers, by the administration, and by the community she served for her outstanding contributions. She served on the board of the YMCA and Crime Stoppers. Many described her as one of those friends you could not see for years and pick up right where you left off when you saw her again. Another constantly repeated comment was how sincere, sweet, and kind a lady she always was. She lived and worked by a bar she set very high and expected others to do the same. She was a great cop who led by example. Her high principles and compassion guided and helped form the next generation of professional Tampa Police Officers.

After twenty-six years of community service, she retired to pursue a new exciting path. She adopted her five year old grand nephew Clinton James Lawrence (C-J) which became the most important role of her life as his "Mom." She is so proud of her son, who recently became a United States Marine.
Delores was able to attend C-J's boot camp graduation in August. C-J gives her all the credit of becoming the man that he has become. C-J never left her side the last six days of her life in Tampa General Hospital.
Delores was a founding member of Crimestoppers of Tampa Bay and served as Treasurer and President. She was also a member of the Krewe of Venus. She enjoyed traveling with family and friends throughout the United States and outside the country. Recently her brother Kevin, took her to Hawaii, before that to Paris. She traveled to England twice with her cousin Monica Morrill.

She took C-J to visit his brother Charles and his parents vacationing in Belgrade the capitol of the Republic of Serbia.

Delores was preceded in death by her parents and her sister Nancy Morrill Hand. She is survived by her son, Clinton James Lawrence, his brother Charles Thomas Lawrence Youvan and his parents Emily and Ronald Youvan, her brother Kevin and wife Lynn Morrill and their children, daughters Kristie and husband Joseph Pillod, Monica Morrill, and son Max and wife Katie Morrill. Also, niece Noella Hand Lawrence and six grand nieces and five grand nephews. She will also be missed by over fifty two years friendships of sorority sisters Michelle Rosenblum Horowitz and Mary Spencer de la Torre. We would like to thank her cousin Andrea Bechore, Emily Youvan and sorority sister Michelle Lepore Barry who took care of her at home between her last two hospital admissions.

Funeral arrangements:
A celebration of Life by Reverend Mr. Dan Parrish and Tampa Police Honor Guard will be conducted 10:00 A.M. Saturday, November 4, 2023, grave side at New Hope Cemetery, 207 New Hope Rd., Brandon, FL.
Family will be receiving friends thirty minutes prior to the service at the Cemetery.
In lieu of flowers, the family requests donations be made to Tampa Police Department-Rise Tampa or to Crime Stoppers of Tampa Bay.

Read More
Previous Events
Graveside
New Hope Cemetery
207 New Hope Road
Brandon, FL 33510
Memorial Contribution
Tampa Police Department - Rise Tampa
Post Office Box 172816
Tampa, FL 33672