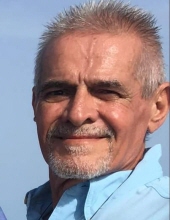 Obituary for David R. Sanchez
SANCHEZ, David (Bobby) R. JR., of Salt Springs, FL passed away peacefully on Saturday, November 28, 2020. David was a Proud Firefighter in Hillsborough County for 30 years. He had strong faith in the Lord and is in peace with his savior. Beloved David loved strongly and deeply for the many souls that he touched. He was an avid fisherman who loved boating, hunting, camping, the outdoors, cars, dancing and music. His angelic smile and selfless magnetic personality will be missed but never forgotten. Survivors include his wife, Diane; mother, Dahlia Sanchez son, David A. Sanchez; sisters, Deborah Stone, Becky and brother in law Bryan Heady; grandchildren, Destiny Ann, David Aiden, Keegan Jacob, and great granddaughter Enalya Dawn Sanchez. And many step-children many, nieces and nephews; friends and brothers. A celebration of life will be at a later date.
Read More
Events
Event Information
A Celebration of Life Service will be held at a later date.