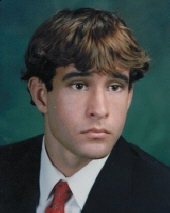 Obituary for David Andrew Warren
David Andrew Warren

WARREN, David Andrew, 30, of Brandon, FL, passed away Thursday, September 24, 2009. David was a beloved son and brother, a scholar and an athlete, and a giver of himself to others. David attended Tampa Preparatory School, where he excelled in the classroom and on the basketball court. He graduated from Brown University with a concentration in classics and received a Masters of Art in History from George Washington University and was in his third year of law school at Stetson University when he was taken from us. David was greatly loved and will be greatly missed, and the pain that his family and friends feel at his passing is only assuaged by the knowledge that he is now at peace. David is survived by his parents, Jeffrey and Susan Warren, Brandon, FL; brother and sister-in-law, Matthew and Megan Warren; sister, Laura Elizabeth Warren; maternal grandparents, Clyde and Margaret Piercy and nephew, Nicholas Warren.

Funeral Information

Funeral services will be conducted 10:00 A.M. Monday, September 28, 2009, at the First Baptist Church of Brandon. A reception will follow in the church fellowship hall. Interment will be private.