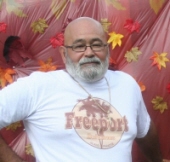 Obituary for Concepcion Ruiz Jr.
Concepcion Ruiz, Jr.

RUIZ, Jr., Concepcion, 62, of Riverview, passed away on Tuesday, May 21, 2013. A native of Caguas, Puerto Rico, he has resided in this area for 6 years coming from New Jersey and was of the Catholic faith. He is survived by his son, Jeremy Ruiz; daughters, Lavonne Ruiz-Reese and Tayda Ruiz; father, Concepcion Ruiz, Sr.; brothers, Jose, Felix, Albert, John and Santiago Ruiz and sisters, Nancy Ruiz, Olga Iris-Ruiz and Frances Ruiz.

Funeral Information

Funeral services will be held 6:00 P.M. Sunday, May 26, 2013, at Southern Funeral Care, 10510 Riverview Drive, Riverview, with the family receiving friends one hour prior to services.