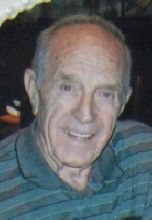 Obituary for Clark N. Carley
Clark Carley

CARLEY, Clark N., 85, of Tampa, passed away on Tuesday, July 13, 2010. Clark was a lifetime resident of Tampa and a member of Causeway Baptist Church and served his country in World War II while in the US Navy. He worked 42 years as a switchman for the railroad. He was preceded in death by his children, Arthur Carley and Tracie Owens and is survived by his wife of 64 years, Betty; daughters, Sharon Kenny, Toni Bennett (Mark) and Suzanne Bennett; brothers, Lawrence (Geneva) and David Carley; sister, Ana Mae Kyle; 9 grandchildren and 9 great-grandchildren.

Funeral Information

A Celebration of Life service will be conducted 2:00 P.M. Saturday, July 17, 2010, at Causeway Baptist Church with the family receiving friends one hour prior to services. Interment will be private.