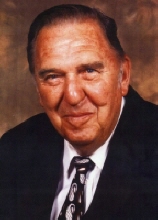 Obituary for Charles Wesley Kearney Sr.
KEARNEY, Sr., Charles Wesley "Wes"

Kearney, Charles W. "Wes" Kearney, Sr. of Brandon peacefully passed away surrounded by his friends and his family on August 11, 2007. Wes was born November 24, 1926, in Reynoldsville, PA. The Tampa Bay area has lost a man of true virtue, integrity and unsurpassed "quiet" philanthropy. He never wanted his contributions known. As Founder of Kearney Development Company, Inc. and many other Kearney companies, he was known for his unprecedented ethics and honesty. Until his recent poor health, he worked side by side with his employees earning their utmost respect. Wes believed his employees were his company's greatest assets. An incredible husband to his beloved Joanne, wonderful Father to Bryan, Barry, and Bing; Grandfather to his eight grandchildren-he leaves a legacy that will continue through his sons and family.

Wes will be greatly missed by his family, friends and employees, all of whom have the most profound respect for him. He was a great role model for personal and business integrity and was a classic "Handshake" example from the old school.

He attended Milford Academy Preparatory School in Milford, Connecticut; Missouri School of Mines in Rolla, Missouri; and University of Missouri-Columbia. Following his formal education, Wes enlisted in the Navy during WWII and served in the Pacific and American Theaters and on the USS Pasadena during in the invasion. After the war, he worked for Southern Zonalite Corporation building boilers throughout the United States. He was assigned to Tampa where he met Joanne, the love of his life. Wes made many contributions to the city of Tampa. He installed the roof on the Marine Bank Building as well as one of the buildings at Tampa General Hospital in the early 50's. In 1956, Wes was asked to transfer up north for the winter months. However, he did not want to keep moving his wife and three small children, so he changed careers. He bought his first bulldozer, a TD9 International for $6,500. Thus began Kearney Development Company. As the sole operator, Wes charged $6 per hour for bulldozer jobs. He ran the bulldozer during the day and did repairs and maintenance late at night to keep the machine running for the next day's job. On Saturdays, he would take one of his three sons to work and let him ride on the bulldozer seat all day. Over the last 52 years with Wes at the helm, Kearney Development Company has grown into a family of companies and has become an industry leader in site development and underground utilities.

Wes was a Master Mason, Scottish Rite 32o, Jester, Shriner, Kentucky Colonel, equipment broker and noted cattle rancher. Wes always put in a full days work. During his last days, he personally supervised the cattle and hay cutting operations.

Preceded in death by his beloved wife of 51 years, Joanne Whitman Kearney, Wes Kearney is survived by his son Bryan and wife Dawn and their children, Skye and Sean of Temple Terrace; son Barry and wife Susan and their children, Tara and Logan of Brandon; and son Bing and his children, son Chad and his wife Shayna, Chase, Clay and Carlie.

"Stop to smell the roses, but take time to be happy along the way." --C.W. "Wes" Kearney

A Memorial Service will be held 10:00 A.M. Wednesday, August 15, 2007, at Bell Shoals Baptist Church, 2102 Bell Shoals Road, Brandon, Florida 33511. Flowers will be accepted and/or donations can be made to the Kearney Foundation, 5115 Joanne Kearney Blvd., Tampa, FL 33619.

Funeral Information

A Memorial Service will be held 10:00 A.M. Wednesday, August 15, 2007, at Bell Shoals Baptist Church, 2102 Bell Shoals Road, Brandon, Florida 33511.