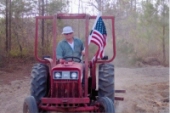 Obituary for Charles Edward Whitt
Charles Edward Whitt

WHITT, Charles Edward, 83, of Valrico, passed away on Friday, December 30, 2011. A native of Riverview, Charles had lived here most of his lifetime, before moving to Butler, GA for 24 years and then moving back to Valrico a year ago. He retired from the Hillsborough County Sheriff's Office and the State Attorney's Office in 1969. He was a member of the American Legion, National Sheriff's Association, the NRA and owned Whitt Septic Tank Service from 1969-88. He was preceded in death by his parents, Charlie and Lois Whitt and son, Jeff Whitt and is survived by his wife, Barbara; two sons, Tommy and David Whitt; two daughters, Jo Anne Whitt and Ginger Ford; sister, Joyce Jackson; 7 grandchildren; 9 great-grandchildren; a niece and nephew.

Funeral Information

Graveside services will be held 12:00 P.M. (Noon) Thursday, January 5, 2012, at Hackney Cemetery, Riverview.