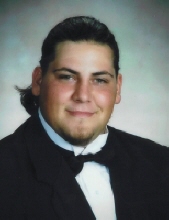 Obituary for Bryan John Giordano
Bryan John (GEO) Giordano

GIORDANO, Bryan (GEO) 22, of Riverview, entered heaven on January 20, 2103. Son, brother, friend, who touched the hearts of everyone he knew. He loved life, and was an honorable friend. Bryan loved sports and played at the Brandon Steelers, Bears, East Bay Bucs, Little League, and Riverview Sharks. He was an All-County in Football selection. Bryan was a 2010 graduate of Riverview High, and employed by Hillsborough County. He was preceded in death by his grandparents, Rosario and Mary Giordano. Survivors include his parents, Robert and Linda Giordano; grandparents, Dominic Sr. and Lillian Bianchi; siblings, Robby and Nina Giordano; aunts and uncles, Peter Jr. and Jean Bianchi, Linda A. Giordano, Rosalyn Giordano and Judy Hood, Pete and Carol Bianchi, Dominic Bianchi Jr., Brenda and Bob Rebak, and Louise Bianchi; cousins, Russell, Anthony, Mary, Sarah, Kayla, Danny, Alyssa, and Jenna. Best Bud's and amazing friends and many adopted family members whom are too numerous to list; and longtime girlfriend, Jessica Howard. Pall Bearers include, Joseph Lange, Mike Seely, Dalton Diehl, Ryan Gascon, Jacob Farmer, Tyler Perry, William Bramlett, Jake Bramlett, Anthony Quinones, Russell Fannin, Anthony Fannin, and Joseph LeCroy.

Funeral Information

A Funeral mass will be conducted 10 a.m. Saturday, January 26, 2013 at Saint Stephen Catholic Church, 5049 Bell Shoals Rd., Valrico, Fl. The interment will follow at Bloomingdale Cemetery. The family will be receiving friends Friday, January 25, 2013 from 6 to 8 p.m. at Southern Funeral Care, 10510 Riverview Dr., Riverview, FL. There will also be a Celebration of Life Service at Diehl's Farm, Saturday, January 26, 2013 at 2 p.m., 16801 Balm Wimauma Rd., Wimauma, FL 33598.
Read More