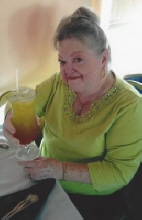 Obituary for Billinda Kaye Borden
Billinda Kaye Borden

BORDEN, Nee: Barr, Billinda Kaye, 74, passed away peacefully on Thursday, October 27, 2016, surrounded by her loving family consisting of her husband, Jim; son, Brett and Leonard Vitel at Sun City Center Hospice House, Ruskin, FL. Billinda was born in Deland, FL and lived in New Orleans, LA as an infant. Her parents, William R. and Lavinia Lindy Barr, moved to Sarasota, FL, where Billinda attended grade school, Sarasota High School and the Ringling School of Art. Billinda was employed in the banking industry working for the former Sarasota Coast Federal Savings and Loan, Sarasota, FL. In 1965, she and Jim met while Billinda was working with the Miss Florida Pageant as a contestants coordinator. In October 1966, Jim and Billinda were engaged to be married and on May 13, 1967 Billinda and Jim were married in Sarasota, FL. After honeymooning in Las Vegas, NV, they loaded a Pontiac Bonneville and a U-Haul trailer and headed for Boston, MA. In the Boston area, Billinda saw snow for the first time, took up snow skiing, and decided that the water of the Atlantic Ocean, off the coast of Massachusetts, was not nearly as warm as the Gulf of Mexico. In 1972, Billinda and Jim moved to the New York area, and their son, Brett, was born in New Jersey. In l976, Billinda and Jim returned to Florida, living in Valrico. She lived in Valrico from 1976 to 1985. In 1985, they moved to Cooper City, FL and lived there until 1995. In l995, she and Jim moved to Alexandria, VA and in 2000 they returned to Cooper City, FL. In January, 2002 they returned to what they considered home, Valrico, FL. During all of Billindas years she was active with the international womens sorority, Beta Sigma Phi. In each location Billinda lived she was active with the local chapter, serving in a variety of positions. Her membership in her last Chapter in Valrico/Brandon was identified as Torchbearer NU. Technically, NU is for a new chapter and Billinda and her sorority sisters have been the bearers of the light of Beta Sigma Phi for many years through their good works and deeds. Billinda was very active with local pageants, state pageants, and the Miss America Pageant, which is the largest source of scholarship money for young women. In Florida, she served as a Regional Director for a number of years with the Miss Florida Pageant. While living in Alexandria, VA, she became involved with the Miss Maryland Pageant. Billinda served as the State Traveling Companion for Miss Maryland, to the Miss America Pageant, with eight Miss Marylands. Billinda was requested to judge numerous local pageants and state pageants throughout the United States, including, but not limited to, Miss South Dakota, Miss Hawaii, and Miss Utah. Billinda is survived by her husband, Jim; son, Brett; daughter-in-law, Rachel; three grandchildren, Kaiden, Weston, Corbin; her mother, Lavinia Lindy Barr; sister, Lynn Vitel; two nieces, two great-nieces and one great-nephew.

Funeral Information

A Celebration of Life Service will be held 11:00 A.M. Saturday, November 19, 2016, at the First Presbyterian Church of Brandon, 121 Carver Street, Brandon, with the family receiving friends one hour prior to services. Billindas final resting place will be in Howie Memorial Bell Tower Columbarium, located adjacent to Summerall Chapel on the grounds of The Citadel, The Military College of South Carolina, Charleston, SC.