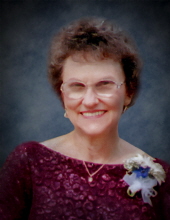 Obituary for Betty Bowers Darden
Betty Darden, 89, of Plant City, FL, went to be with the Lord on Friday, December 16, 2022. Born on a small farm in rural Coweta County, GA, she grew up picking cotton, baking rolls, and participating in 4-H, where she served as a state officer. She attended West Georgia College in Carrollton; graduated from the University of Georgia with a degree in Home Economics; and worked in Thomaston, GA as a home demonstration agent. Then as part of an Air Force family she lived all over the world including Maine, England, California, Ohio, Georgia, the Philippines, North Dakota, North Carolina and Spain, before moving to Brandon, Florida in 1976 and getting "sand in her shoes."She lived in Brandon Hills until 2018, when she moved in with her youngest son, Dave, and his family in Plant City, upon recovering from a hemorrhagic stroke."
Betty was active in the Presbyterian Church her entire life holding many leadership roles in Bible studies, children's education, women's groups, and missionary committees and was known for being a constant encouragement to others. She was an accomplished cook and gardener; master organizer, adored wife, mother, sister, aunt, grandmother and great grandmother; and reliable neighbor and friend. She loved to travel and visited Hong Kong, Tokyo, Egypt, Lebanon, Israel, Germany, France, Greece, Haiti, Australia, Canada, Belize, Nova Scotia, Scandinavia, Russia, Belgium, The Netherlands, Austria, England, Scotland, Wales, Portugal, Morocco, Gibraltar, Eastern Europe and nearly every state in the U.S.
She is preceded in death by her husband, Lt. Col Henry Richard "Rip" Darden, Jr; daughter Lucy Darden; father Ralph Lee Bowers; mother Roxy Lucille Graves Bowers; sister Martha Bowers Guffin Reese; and brothers Ralph Lee Bowers, Jr and Lisle Robinson Bowers. She is survived by sons Richard "Dick" (Pam) Darden of Leesburg, VA and Dave (Kerry) Darden of Plant City, FL; daughter, Mary Darden (Greg) Tarczynski of Oakland, CA; 10 grandchildren, 2 great grandsons, and many nieces and nephews.
Funeral services and interment will be at White Oak Associate Reformed Presbyterian Church, Senoia, GA at 10:00 A.M. on Saturday, January 7, 2023, with interment to follow.
A shared meal and Celebration of Life will be held following Sunday services on April 30, 2023, at Westminster Presbyterian Church in Brandon, FL. The family suggests wearing "jewel tones" to represent Betty's bright outlook and decades of Christian service to others.
In lieu of flowers, contributions can be made to the Westminster Presbyterian Church Scholarship Fund (wpcbrandon.org) or Logoi Ministries (logoiministry.org).
Read More
Upcoming Events
Celebration of Life Service
Westminster Presbyterian Church
402 East Lumsden Road
Brandon, FL 33511
Previous Events
Service
White Oak ARP Church in Senoia, GA
2796 Gordon Road
Senoia, GA 30276
Memorial Contribution