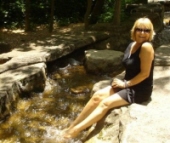 Obituary for Belinda Jean Empsall
Belinda Jean Ulakovits Empsall

EMPSALL, "Ulakovits" Belinda Jean, 61, of Seffner, passed away on Monday, September 26, 2011 due to breast cancer that she fought courageously for the past ten years. She is a Florida native and spent 24 years in West Fork, Arkansas living in a historical home named "The Hope House" built in 1856 that she restored and loved dearly. She recently returned to the Tampa area. Belinda enjoyed her organic gardening and was even featured in Southern Living Magazine while she was living in Arkansas. She is predeceased by her brother, Michael Valentine Ulakovits; sisters, Charleen Ulakovits Mabry, and Sheila Ulakovits Creel. Survivors include her parents Valentine and Alma L. Sims Ulakovits; sons, Aaron Bancroft Empsall, and Kyle Lee Empsall; sisters, Elaine Payne (Bill), Cathy Aldridge and Valeria Lauther (Bill); grandsons, Bronson Bancroft, and Oliver Montgomery Empsall; and many nieces and nephews. In lieu of flowers donations may be made to the IBC Research Foundation, 321 High School Road, NE, Suite D3, Bainbridge Island, WA 98110 or to American Cancer Society.