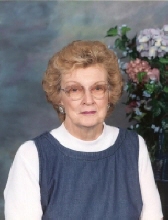 Obituary for Barbara Faye Woodside
Barbara Faye Woodside

WOODSIDE, Barbara Faye, 78, of Valrico, passed away on Friday, September 19, 2008. A very active member of Bell Shoals Baptist Church, she is survived by her son and daughter-in-law, James J. Woodside, III and Theresa, Tampa; daughters, Jamie F. Thornton, Valrico, Susan and David Sheppard, Orlando and Marcia Rivers, Temple Terrace; grandchildren, Stephen, Jason and Michael Woodside, Harmonie Thornton, Casey Latchford, Andrew and Rebekah Sheppard and great-grandchildren, Brooke and Bradley Woodside, Makayla Latchford and Nicholas McCallister.

Funeral Information

A Celebration of Life Service will be held 12:00 Noon Wednesday, September 24, 2008, at the chapel at Bell Shoals Baptist Church, Brandon.