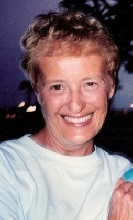 Obituary for Barbara Ann Schram
Barbara Ann Schram

Barbara Ann Schram, 73, of Riverview, FL, passed away on Monday, December 22, 2008. A native of Binghamton, NY, she had resided here for 30 years and was of the Baptist faith. She is survived by three sons, Michael Chapman, South Hero, VT, Jeffrey Knight, Binghamton, NY and William E. Knight, Covington, KY; two daughters, Teri Gevry Grimshaw, Campbell, CA and Carolyn Loudermilk, Riverview, FL.

Funeral Information

Memorial services will be held 5:00 P.M. Friday, January 16, 2009, in the Chapel at the First Baptist Church of Brandon.