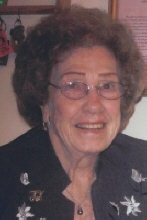 Obituary for Anna Mae Kyle
Anna Mae Kyle

KYLE, Anna Mae, 90, of Mango departed this life on Sunday, January 29, 2012 and entered into the presence of her Lord and Savior. She was born November 7, 1921 in Punxsutawney, PA, the second of eight children born to Norma and Frank L. Carley. and moved to Adamsville, FL when she was two years old. She met the love of her life, Samuel D. Kyle, Sr., when she was 16 years old and was married 46 years until his death in 1983. Together they raised four children, Samuel D. Kyle, Jr.; Kenneth L. Kyle; Carol Kyle Parker and Brenda Kyle Lyon. She has two brothers, Lawrence Carley and David Carley and 11 grandchildren, 13 great-grandchildren and one great-great-grandchild. Anna Mae loved her family and church family, First Baptist Church of Brandon,. She was an outgoing, firendly person whose ministry was visiting the sick and attending funerals to comfort the bereaved. She had a hug for everyone and passed out mints to everyone at church.

Funeral Information

A Celebration of her life will be held 11:00 A.M. Friday, February 3, 2012, at the First Baptist Church of Brandon, 216 N. Parsons Avenue, with the family receiving freinds one hour prior to services. A reception will follow in the fellowship hall.
Read More