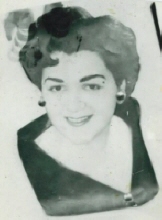 Obituary for Ann Elizabeth Rubbino
Ann Elizabeth Rubbino

RUBBINO, Ann Elizabeth, 79, of Valrico, passed away peacefully on Tuesday, May 15, 2012. A native of Brooklyn, NY, she had resided here for 3 years coming from Ft. Lauderdale, FL and was a wedding dress designer. She was preceded in death by her sons, James Francis and Ronald Robert and is survived by her loving and devoted husband of 42 years, Vincenzo "Vinny" Rubbino; 4 daughters, Rosalie Dolan, Brooklyn, NY, Frances Watson, Compass Lake, FL, Pamela Czerwin, Oceanside, NY and Kim Burns, Sussex, NJ; 17 grandchildren; 14 great-grandchildren and 4 great-great-grandchildren.

Funeral Information

Memorial services will be held 2:00 P.M. Sunday, May 20, 2012, at Southern Funeral Care, 10510 Riverview Drive, Riverview, with the family receiving friends one hour prior to services.