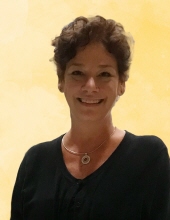 Obituary for Alyssa Michelle Liebe
Alyssa Liebe was born November 9, 1970 and joined Christ on March 2, 2022.

Alyssa was born to Fred and Mary Wooten in Tampa, Florida. She graduated from Bayshore Christian School, where she later served on the board of directors. She earned an Associate's Degree from HCC and studied at the University of South Florida. Spending most of her career in administrative positions in various hospitals, she also worked as a customer care representative.

From being Baptized in the Jordan River, to the Great Wall, Alyssa was an experienced traveler with adventures across the United States, Europe, China, and Israel. She had a talent for making every interaction a meaningful memory, connecting with every person she encountered, stranger or not. Fluent in American Sign Language, she could always assist those with hearing limitations by assisting in any way she could. Her smile was contagious, as just her presence was enough to spark joy in everyone around her with just a simple hello.

More than anything, Alyssa loved her family. Growing up the eldest of three, her brothers Jeffery and Chad Wooten knew they could always lean on their big sister. Raising her three children, fathered by Leland Liebe, were one of her greatest joys. Taylor, Edyson, and Payton Liebe were blessed with Alyssa as a mother. She loved unconditionally and was selfless, especially when it came to her children.

Alyssa Liebe made extensive and noteworthy volunteer contributions to the military families and Soldiers of the United States Army during periods of both war and peace. She was presented with a General Officer Certificate of Achievement for her leadership and volunteer work supporting the families assigned to the Headquarters Company, 18th Aviation Brigade while also supporting her family at Fort Bragg, North Carolina. Her tireless effort supporting the family readiness of the 1st Cavalry Division resulted in Texas Governor Rick Perry designating Alyssa as a prestigious "Yellow Rose of Texas" for exceptional community service related to the preservation of the history of Texas. She also led the Family Readiness Group of the 205th Military Intelligence Battalion in Fort Shafter, Hawaii, resulting in yet further recognition for her support to Army families supporting operations throughout the Pacific Theater and the Global War on Terror. Additionally, Alyssa always stepped forward to help the coaches and mentors of the various sports leagues and activity groups associated with all three of her children, always providing whatever necessary coordination required to make every team/event/activity successful.

Alyssa was a joyous friend to all, and always a familiar face. Everyone was welcome in her home and in her heart. Witty, outgoing, generous, faithful, and determined are all words that describe her.

Alyssa touched many lives and had an indestructible relationship with Christ. She is reunited with her son Taylor Liebe, her daddy Fred Wooten, Grandma Liz and Grandpa Vince, Grandma Jean and Grandpa Fred.

Philippians 4:13 – I can do all things through Christ which strengthens me.

A Celebration of Life Service will be held 11:00 A.M. Thursday, March 10, 2022, at Southern Funeral Care, Riverview.
Read More
Previous Events
Celebration of Life Service
Southern Funeral Care and Cremation Services, Inc.
10510 Riverview Drive
Riverview, FL 33578