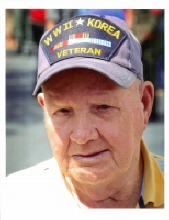 Obituary for Alvis Daniel West
Alvis Daniel West

WEST, Alvis Daniel, 89 frac12; years old, peacefully passed away on Friday, October 14, 2016, in his Riverview, FL home, surrounded by his loving family. At his side were his devoted wife of nearly 66 years, Betty Lou (Davis) West; his children Sheryl, Tim, and Allen; Allens wife, Juanita; and nephew, Rick West. Born on May 5, 1927, in Corbin, KY, he was the firstborn of Russell West and Dorthea (Ross) West of Strunk, McCreary County, KY, on Mine 18 Road. During World War II, Alvis joined the U.S. Army and served in Germany. After Germany, he transferred to Japan and other stateside posts before being discharged and then re-enlisted in the Army for the Korean War, serving in various camps in Korea. In December 1950, before leaving for Korea, Alvis married Betty Lou Davis, also from McCreary County, KY, and married in Anderson, IN. After Alvis returned from Korea, they started their family in 1953 in Anderson and raised their three children in Anderson. They belonged to the Bethel Baptist Church in Muncie, IN. Alvis worked for over 35 years at Container Corporation in Anderson. He retired in 1989 and he and Betty Lou moved to Riverview, FL. Alvis became an avid fisherman and was also a member of the American Legion, VFW, Brandon Masonic Lodge #114, a 32nd degree Scottish Rite Mason, Order of the Eastern Star and attended Riverstone Baptist Church, Riverview, FL. Alvis is survived by his wife, Betty Lou; three children; nine grandchildren; sixteen great-grandchildren; brother, Leroy West of Strunk, KY and sister, Betty Rose (West) Rich of Celina, TN. He is predeceased by his brother, Alford J. West; sisters, Fayrene A. (West) Hanner and D. Gaynelle (West) Whitaker.

Funeral Information

A Celebration of Life Service will be held 11:00 A.M. Saturday, November 12, 2016, at Riverstone Baptist Church, 12011 East Bay Road, Gibsonton, FL 33534.