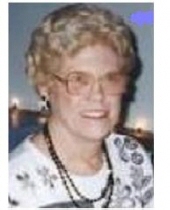 Obituary for Althia Sarah Bennett Parker Musgrave
Althia Sarah Bennett Parker Musgrave

MUSGRAVE, Althia Sarah Bennett Parker, 81, beloved wife of Edward Musgrave, passed away July 1, 2009 after a long battle with liver cancer since Jan. 2004. Althia was predeceased by her parents, Rose and Will Bennett, and her first husband, Jack Parker. She is survived by her husband of 36 years, Edward Musgrave; daughter, Alisa Kane and grand-daughter, Sarah Kane of Brandon; son, Harry Musgrave (Dawn) and her daughter, Shannon of Galesburg, IL; grandchildren, Tiffany Sexton (Keith) and great-grandchild, Tiffany, Jr., of KY and Kyle Musgrave of KY, their half sister and half-brother, Marissa Zuelly and Eddie Burke of IN; sister-in-law, Susan Modica of Brandon. Althia grew up in Bloomingdale and graduated as Salutatorian with the Brandon Class of '44. The caption under her yearbook picture read, "Agreeable, unselfish and always kind, a better friend you'll never find". Her many friends would surely agree. She enjoyed going to the Stardust Ballroom and listening to old country and western music at Sonny's Pickin' Barn. She and Ed were also members of Mostly Originals. Althia has been a member of Apostles Lutheran Church for over 36 years where she and Ed have been ushers and members of Apostles Keenagers. Two of her favorite Bible passages are an excerpt from Verse 11, Chapter 4 of Phillipians, where Paul writes, "I have learned in whatsoever state I am, therewith to be content"; and Verse 13, "I can do all things through Christ which strengthened me".

Funeral Information

Visitation will be from 6:00 to 8:00PM this evening (Thursday) at Southern Funeral Care, 10510 Riverview Dr., Riverview. Services will be held on Friday, July 3, 2009, at 11:00 A.M. at Apostles Lutheran Church, on the corner of Kingsway and Morgan in Brandon, with Pastor Handlee Vige officiating. A reception will follow in the Church Hall. Interment will be at 2:00 P.M. at Providence Cemetery, Riverview.