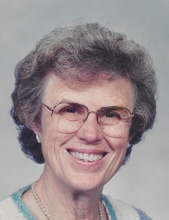 Obituary for Alice J. Storms
STORMS, Alice J., 94, of Brandon, passed away on Wednesday, December 19, 2018 at her home at Tessera of Brandon. A native of Red Creek, N.Y. she moved to Zephyrhills, FL when she was 10, and graduated from Zephyrhills High School in 1942. After marrying Nat (Nathaniel) Storms, also of Zephyrhills, she moved to Gainesville, Wimauma, and then to Brandon in 1952. Alice and Nat moved to the home they built on North Valrico Road in Valrico (the "Storms Shelter") in 1955, where they lived until April, 2018, when they moved back to Brandon. Alice was a pillar of civic activity in Brandon for decades. She was a founding member of the Brandon Junior Women's Club, and also of the Brandon Chapter of the Women's Service League, serving terms as President and numerous other offices for both organizations. Alice served on Brandon's Presidents Roundtable several years, serving a term as Chair, and that organization's Community Service Award in 1985. Alice went before the Hillsborough County Commission to request funding for a library in Brandon, which opened in 1968, and worked the Friends of the Brandon Library to raise funds to purchase books. Alice served on the Hillsborough County Library Advisory Board from 1975 – 1995. Alice was instrumental in the building of Brandon's Center Place, which opened in 1976 and dedicated to promotion of fine arts and civic involvement. For over 20 years Alice was a leader in 4-H, a youth organization that teaches agricultural, homemaking, and citizenship skills. Over a dozen of her members received national awards for their 4-H project work and leadership activities. Alice received the Kiwanis Club of Palma Ceia Adult Leadership Award for Outstanding 4-H Club in Hillsborough County in 1972-73 and in 1976-77. She was honored as Florida 4-H Leader of the Year in 1980, and was inducted into the Florida 4-H Hall of Fame in 2002. Alice was honored with the Sertoma Club Service to Mankind Award for 1981-82, and with the Greater Brandon Chamber of Commerce Key Citizen Award in 1991. Alice was also involved with the American Cancer Society of Hillsborough County, the Ground Observer Corps in Civil Defense, the Brandon July 4th Celebration Committee, and the Children's Home Society in Hillsborough County. The foundation for Alice's unbounded drive and care for others was her faith in God and her desire to live as a disciple of Jesus Christ. She has been a faithful member of the First Baptist Church of Brandon since 1952, and served for many years as Director of Special Ministries for individuals with intellectual disabilities. As an outgrowth of this ministry was New Horizon Group Homes, Inc., which provides long-term living facilities in a Christian environment of developmentally disabled men and women. New Horizons opened the Mary Lou Creamer Home for women in 1999, and the Alice Storms Home for men in 2002. New Horizons continues to expand to help meet the needs of this community. Alice also served for many years as a leader in Bible Study Fellowship, a global organization that provides in-depth Bible classes producing passionate commitment to Christ, His Word, and His Church. After her first stroke in 1992, Alice again demonstrated her determination by regaining her speech and relearning to play the violin, which she played in the First Baptist Church orchestra until her second stroke in 2013. Alice is survived by her faithful loving husband of 69 years, Nat; daughters, Natalie S. Lightsey and Valerie R. Storms, sons, Philip L. Storms, David K. Storms and Steve S. Storms; 9 grandchildren and 8 great-grandchildren. In lieu of flowers, the family requests contributions to be made to New Horizon Group Homes, Inc., 109 E. Clay Street, Brandon, FL 33510.
Read More
Previous Events
Visitation
First Baptist Church of Brandon
216 North Parsons Avenue
Brandon, FL 33510
Celebration of Life Service
First Baptist Church of Brandon
216 North Parsons Avenue
Brandon, FL 33510
Interment will be private in Zephyrhills, FL.
Memorial Contribution